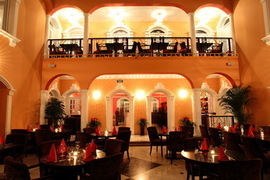 Mi Tierra is located at the center of French Concession in an unique villa which was established in 1920. Mi Tierra combines Mexican design with traditional culinary culture to create an authentic Mexican restaurant with classic flavor.
Mi Tierra, is the only pure Mexican restaurant in Shanghai, owned by Mexicans, executed by a Lady Chef who takes the helm of the kitchen, and a young promising executive director, who are both willing to share the original Mexican cuisine with Shanghai.
Mi Tierra brings to mind; my land, my family, my people, my tradition, my food, my place….
Monday - Friday: Afternoon Tea: 4pm - 6pm ( free flow of churros with order of tea or coffee)
Happy Hour: Monday - Friday 5 - 7.30 pm Saturday 11am – 7.30 pm, Sunday 11am – 4 pm