Reviews from People Like You
Search
Categories
Locations
Try searches like "Italian Bund", "fusion", "burger maoming lu", "drinks" or "Wagas" to quickly search through our 2000+ listings.
Our search engine looks at the name, description, district and address of a place to make it easy for you to find what you are looking for.
Featured Restaurant
Japanese Food
Price More than Y400 per couple
Xuhui District
Open 11am-1:30pm; 5pm-9:30pm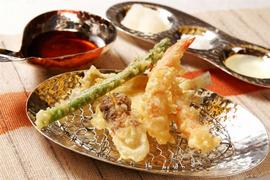 Five generations of skill and expertise have produced a rare, exquisite delight. Fried in pure safflower oil and personally served by two chefs to diners seated with anticipation, this jet-fresh tempura's refined, subtle flavor is courtesy of a family recipe passed down to Toyoichiro Seki who has been perfecting his craft for over 23 years.
Bldg 4, 2421 Xietu Lu, Xuhui
near Wanping Nan Lu
斜土路2421号4号楼
近宛平南路
, over 7 years ago
"Went here on a whim, expecting the usual oily overcooked and uninspired tempura common in Shanghai and most places around the world. But, to my surprise received the best tempura I've ever had - better than what I ate in Japan and definitely better than anything to be found in Shanghai. Toyoichiro Seki came to chat and cooks for all his customers. Have a drink with him - very friendly guy. Really a great experience. Pricey but, I think worth every cent!"
---