Reviews from People Like You
Search
Categories
Locations
Try searches like "Italian Bund", "fusion", "burger maoming lu", "drinks" or "Wagas" to quickly search through our 2000+ listings.
Our search engine looks at the name, description, district and address of a place to make it easy for you to find what you are looking for.
Featured Restaurant
American Food
Price Y100-Y199 per couple
Lujiazui District
Open Sun-Thu 7am-11pm, Fri-Sat 7am-12am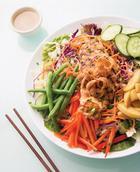 If you're feeling a little worse for wear after scoffing down too many deep-fried dumplings, head here for a healthy antidote. As the name implies, you'll enjoy an array of potent shakes, leafy salads and fresh-grilled sandwiches. Revel in the tangy blue cheese and walnut salad and you'll instantly feel redeemed. Delivery available.
1/F Super Brand Mall, 168 Lujiazui Xi Lu , Lujiazui
near Fucheng Lu, Metro Line 2 Lujiazui Station
陆家嘴西路168号正大广场西门1楼
近富城路, 地铁2号线陆家嘴站
, over 11 years ago
"Great location next to the park. If you sit by the window you forget you are in the 'hai. Salads are big and tasty. I just cycle through the 6 or so salads. The CowBoy breakfast almost hits the spot... Service is good. This is my regular place for salad and the odd breakfast. Nice fruit drinks and blends. Get a member card as the points add up quickly!"
---