Reviews from People Like You
Search
Categories
Locations
Try searches like "Italian Bund", "fusion", "burger maoming lu", "drinks" or "Wagas" to quickly search through our 2000+ listings.
Our search engine looks at the name, description, district and address of a place to make it easy for you to find what you are looking for.
Featured Restaurant
Fusion Food
Price Y200-Y299 per couple
Huangpu District
Open Sunday to Thursday from 6pm till 11pm / Friday-Saturday from 6pm till 2am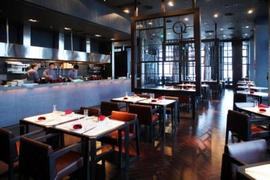 Try the gourmet cuisine at this towering restaurant and bar while you enjoy a view of the Peoples' Square and the Bund from 24 stories above. An elegant interior and show kitchen completes the experience.
318 Fuzhou Lu , Huangpu
near Shandong Lu
福州路318号
近山东路
, over 6 years ago
"The food is good steakhouse fair but doesn't match the gourmet cuisine title. The view is fab!"
---