Reviews from People Like You
Search
Categories
Locations
Try searches like "Italian Bund", "fusion", "burger maoming lu", "drinks" or "Wagas" to quickly search through our 2000+ listings.
Our search engine looks at the name, description, district and address of a place to make it easy for you to find what you are looking for.
Featured Restaurant
Cafes Food
Price Less than Y99 per couple
Huaihai Zhong Lu District
Open Tues-Sun, 10:30am-11:30pm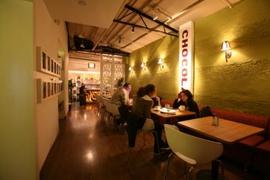 Set back from the street down a short alley, this lunch and dessert café exudes a preference for the sinful. After polishing off a panini or pizza, flirt over gorgeous mugs of hot chocolate paired with molten chocolate cake. The Spanish hot chocolate is a favorite.
1250 Huaihai Lu, Huaihai Zhong Lu
near Huating Lu, Metro Line 1 Changshu Lu Station
淮海路1250号
近华亭路, 地铁1号线常熟路站
, over 10 years ago
"Was there last evening with family and some friends for dessert. While initial service was a bit suspect, tasting the cakes (Coco Banana? and (Upside-down cake) was very nice. Found the 64% chocolate drink (Served in a shot glass) to be tid bit too thick for me but was told that the 74% hot chocolate is what I was looking for. Menu seems rather healthy and fresh but will try next time. Like the fact that it is never that busy...a nice change in Shanghai!"
---
, over 10 years ago
"Very servicable pasta, and extraordinary deserts, much better I think than Hof. I've tried a few of the deserts, but the chocolate upside-down cake with the contrast of warm chocolate and cold vanilla ice cream is absolutely perfect."
---
, over 10 years ago
"I've only tried the extra special hot chocolate here. Its seriously quite good. An odd crowd. Never that busy. "
---