Reviews from People Like You
Search
Categories
Locations
Try searches like "Italian Bund", "fusion", "burger maoming lu", "drinks" or "Wagas" to quickly search through our 2000+ listings.
Our search engine looks at the name, description, district and address of a place to make it easy for you to find what you are looking for.
Featured Restaurant
Shanghai Food
Price Y100-Y199 per couple
Xintiandi District
Open 11am-11pm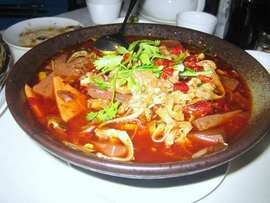 This Shanghainese eatery stays true to its roots, both in ambiance and cuisine, despite its proximity to the tourist masses of Xintiandi. A selection of cold dishes offers all the usual suspects. Munch on some garlicky cucumbers while you wait for piping hot dishes of delicious tofu and crab or the classic hongxiao rou to grace your table.
70 Taicang Lu, Xintiandi
near Shunchang Lu
太仓路70号
近顺昌路
, over 8 years ago
"Typical complaints about Shanghai cuisine can fall into the following buckets - the food is too sweet, there is too much rice wine or its too oily.
The key to an enjoyable Shanghainese meal is balance. A careful balance of flavors will ensure that the dish is not overwhelmingly sweet, reeking of alcohol or drenched in saturated fat. And 蝶园, Butterfly Garden, has perfected that balance.
Read the full review of the restaurant here: http://wanderlustannamolly.wordpress.com/2011/06/13/butterfly-garden-die-yuan-%E8%9D%B6%E5%9B%AD-shanghai-china/"
---