Reviews from People Like You
Search
Categories
Locations
Try searches like "Italian Bund", "fusion", "burger maoming lu", "drinks" or "Wagas" to quickly search through our 2000+ listings.
Our search engine looks at the name, description, district and address of a place to make it easy for you to find what you are looking for.
Featured Restaurant
Hunan Food
Price Y100-Y199 per couple
Luwan District
Open 11am-12:30midnight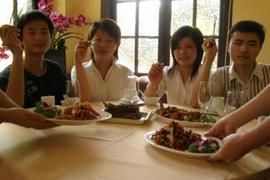 Get ready to roll your sleeves up and shout to your neighbors at this budget favorite. Waitresses will challenge your taste buds with suan dou jiao (beans sauteed with hot peppers and minced meat) and lawei hezhen (smoked meat fried with, yes, more hot peppers) and the spareribs are a must.
2/F, 56 Maoming Nan Lu, Luwan
near Changle Lu, Metro Line 1 Shaanxi Nan Lu Station Exit 3
茂名南路56号2楼
近长乐路, 地铁1号线陕西南路站3号口
, over 9 years ago
"Ah - a favorite with locals and foreigners, this place is noise, bustling, has lots of cold beer, and tasty, spicy food.
The ribs and the shrimp skewers are a must.
Afterwards, head down the stairs for some Belgian beer."
---
, over 9 years ago
"Typical Hunan food. Not bad. Everybody used to rave about it. But I think there are better places to go... service is often not very good either!"
---