Reviews from People Like You
Search
Categories
Locations
Try searches like "Italian Bund", "fusion", "burger maoming lu", "drinks" or "Wagas" to quickly search through our 2000+ listings.
Our search engine looks at the name, description, district and address of a place to make it easy for you to find what you are looking for.
Featured Restaurant
Yunnan Food
Price Y200-Y299 per couple
Xuhui District
Open 11:30am-2pm, 5:30-10:30pm; bar from 5:00pm-1:00am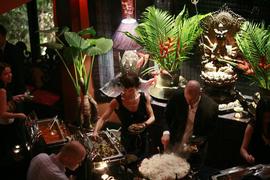 The owners of Coconut Paradise have worked their magic again. Though there are a few bland dishes on the menu, most of the Yunnanese specialties here are simultaneously exotic and delicious. The dark, rich décor and romantic spotlighting provide the perfect atmosphere for hip, young culinary anthropologists.
38 Gaoyou Lu , Xuhui
near Fuxing Xi Lu, Metro Line 1 Changshu Lu Exit 1
高邮路38号
近复兴西路,地铁一号线常熟路站1号口
, over 10 years ago
"update: OK! So I Went back with my wife. Ordered some pretty weird dishes - all tasted good! So it wasnt just the alcohol speaking! The food here is a nice change from all the normal Chinese food one eats.
Went with some folks from work. Not a bad place. Great interior. Service was acceptable. Food seemed pretty good. I need to go back again and try a few more dishes before I pass any major judgement. Great place to take a date. The dishes I tried were nicely prepared and presented."
---
, over 10 years ago
"The bar looks superb and makes a lasting impression. With large comfy seats (in similar size to a queen sized bed) make it very easy to unwind with a beverage and relax before or after you meal. The décor and dim lighting makes you feel like you're in a different world, it really sets a great atmosphere for an engagement with that someone special. "
---
, over 10 years ago
"We were a bit skeptical and had no prior experience of Yunnan/Burmese cuisine, but our dinner was thoroughly enjoyable. The Hua Yao Dia stir fried beef was particularly tasty and generously doused in coriander/cilantro. We also enjoyed the aubergine (eggplant) in tomato sauce and the scallion chicken, all pleasantly spicy. The tofu-spring rolls were a bit mushy for our taste but still went down nicely with the sauce. In general the flavours were refreshingly different from Thai and Vietnamese, though we couldn't speak for their authenticity. The atmosphere and decor is in fact remarkably similar to Coconut Paradise, dark and a bit on the noisy side, with similar prices, but for us it was a pleasure to try out a new cuisine."
---