Reviews from People Like You
Search
Categories
Locations
Try searches like "Italian Bund", "fusion", "burger maoming lu", "drinks" or "Wagas" to quickly search through our 2000+ listings.
Our search engine looks at the name, description, district and address of a place to make it easy for you to find what you are looking for.
Featured Restaurant
European Food
Price Y100-Y199 per couple
Pudong District
Open 9am-12am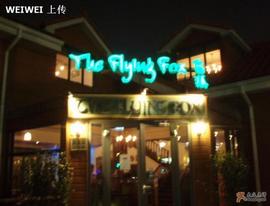 This warm suburban pub serves hearty chef's pies, pours generous pints and is popular amongst the Jinqiao crowd. The menu ranges from English and Irish classics to other global cuisines. Children's play areas on the first floor and in the outdoor garden make this a nice spot for families.
225 Hongfeng Lu, Pudong
near Xinjinqiao Lu
红枫路225号
近新金桥路
, over 8 years ago
"Unhappy fathers day!
my wife today suggested we go out for aussie fathers day dinner tonight.Now my preference has always been jap or korean bbq but their not her favorite! Now i have had a couple of bad experiences at this location based on portion size but it was a nice night and we had our son with us, so i was thinking it was a good location with the play ground and all.Anyway i ordered the fish and chips(145rmb).This used to be a reasonable value for money dids,hovever latley price has been rising and portion size shrinking.When it came i was astounded to see that it had shurnk further,it was basicaly a 2cm by 8cm piece of grilled fish with 12(at best) standard chips(the frozen kind ya get in a bag) and a salad consisting of mixed lettuce leaves(no tomatoe,no cucumber,no capcicum(sweet peppers for our american friends)no imagination.Now mind you i was hungry but i was so amazed i told the waitress to take it back i refused to pay that much money for such a small serving of at best average food.My wife had the burger,which was ok but 100rmb(20 quai cheaper down the road for a bigger serving at the bb)and the boy had the kids meal which was ok.I guess the point im trying to make is just because most of their clients are expats(and obviously on a good wicket) dont give them the right to rip people off!Obviously personal choice but for me thats my last visit to that over priced so called gastro pub! "
---