Cafes Food
Price Less than Y99 per couple
Jing An District
Open Monday to Friday 8:00a.m to 8:30p.m, Saturday and Sunday 10:00a.m to 6:00p.m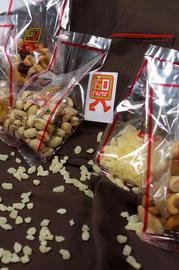 Go Nuts is a healthy gourmet snack bar were anyone can come and have great snacks, small meals and great natural healthy drinks. From our juices to our smoothies we keep it healthy and delicious, and not to mention that our tea is organic and fresh! We also have the freshest and best muesli in Shanghai, come by anytime for your muesli cup with fresh fruit or just take the pre-packed muesli baggy if you are on the go. You can find us on the corner of Xinzha Rd. and Jiangning Rd., only a 5 minute walk from Nanjing Xi Rd. metro station line 2. Go Nuts for our snacks and great prices, keep an eye out for our special promotions, there's always one going on!
1219 Xinzah Rd. Shanghai 200041 China, Jing An
Crossroad with Jiangning Lu, 5 minutes walk from Nanjing Xi Lu metro station Line 2.